My name is John Mills, president of Internet Man, Inc. We are located in southern California. We have been developing web content – web sites, databases, email, and marketing programs – since the Internet started over 15 years ago. We have hosted web sites, business systems, and email continuously over all that time. If you like stability in your Internet, you've come to the right place. Our record speaks for itself.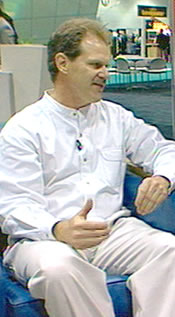 When you deal with Internet Man, you'll be dealing directly with me. When it comes to Internet web designers you have two types of companies:
1. The part time Web designer
2. The impersonal Internet Service Provider
Internet Man is a full time Web Design firm that has been around a long time. We handle large, complicated web sites yet are small enough to be responsive and provide personal support.
The Internet is situational and many people have jumped into web design temporarily to make some money. In many cases people do this work short term. Any designer relationship can work for a while. Maybe the designer is between "real" jobs and can temporarily pay attention to your needs, like being between semesters. When things change you run the risk of being put on the back burner. Internet Man provides the long-term commitment you need. To us the Internet as our profession.
Internet Man provides the year-after-year support that most businesses want. It is not good enough to be in business for a while. With a name like Internet Man you know where our interests lie. We've been developing and managing sites since the Internet began in the early 1990's. We'll be around in the future. Internet is what we do. We are synonymous.
Our company is built on a traditional business model. We don't use subcontractors. Our design philosophy extends to our infrastructure. Internet Man owns and operates Windows Servers, Email Servers, and Linux Servers. Our equipment is located on the downtown Los Angeles hub where the Internet piers on the west coast. It's super-fast. Our clients enjoy the fastest response time the Internet has to offer. Owning our equipment gives us the platform to create content beyond scope of the average web designer. We routinely deliver databases, online applications, Web video, and animation. We push Internet technology to the limit. We do things most hosting companies do not allow. If you need something technical done, we can do it.
Becoming an Internet Man client is the best decision you can make. Your company will get better. You will be on the cutting edge of Internet technology. We will keep you up to date. Our business model is based on long term relationships. Our clients stay because we are a good deal. We are stable. We have been around since the beginning. What more can you say?
Is a web design switch in your future? If so, align with Internet Man, a competent, friendly, and stable web designer.